I recently had the pleasure of interviewing the band Kevlar, one of the most anticipated up and coming Hard Rock bands, coming out of Erie, PA. Unlike many interviews I've done before, this one contains answers from each of the members, which I love because you can get a feel for everyone's personality, attitude, and it's just nice to hear the thoughts of more than just one member. I really enjoyed a lot of the answers I got, thank you guys for your time! Be sure to check these guys out on Facebook, Youtube, and Instagram!
https://www.facebook.com/KevlarRocks/
 https://www.youtube.com/user/kevlarrocks
https://www.instagram.com/___kevlar___/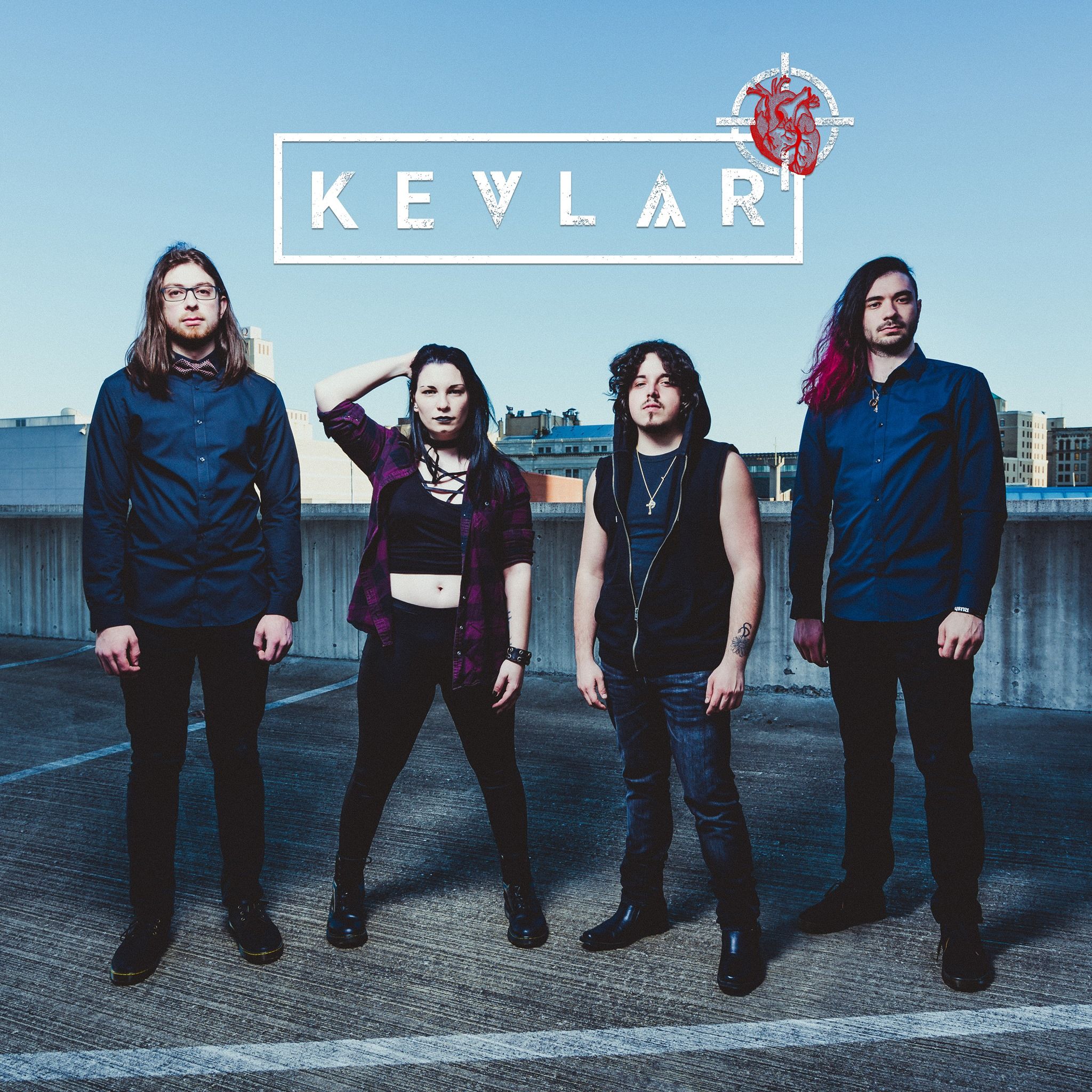 ---
JJ King: I know you guys have been having to do a lot of waiting where the new album is concerned, but is there any word on when that might be coming out yet?
Kelci: Yes! The new album will be out on 5/18/18! But we encourage everyone to pre-order it ASAP right here:http://hyperurl.co/aftermathep  We have exclusive Aftermath merch and you get our new single 'For What It's Worth' immediately right after you download it.
---
JJ: How does the new music compare to old Kevlar?
Kelci: Lyrically, the last two albums were all over the place for me. Some songs were about my life, other songs were stories that I had written - This album is real, hard, and straight from the heart. Every song is about a situation I've gone through or been placed in and straight from my point of view. It's very emotional and I don't think it can get any more real than that. 

Anthony: I feel it is different from anything we've done before. This is going to be our third release with this current lineup and I feel the previous two EPs aren't nearly as strong as this forthcoming EP, but that's ok because those needed to be there to help guide us in the direction we are striving for. 

Nick: I think with most bands, you will find that the music changes and evolves from record to record. Our influences also change from time to time, so that definitely plays a role in the difference of our sound from our last records as well. This record definitely takes a step in a different direction as far as style, songwriting, and production are all concerned. It's more modern and theatrical sounding and to me the music seems to tell story of its own. 

Jake: It is way different! I feel we found the sound that blends everyone's influences in the band, so I'm proud of it for sure!
---
JJ: How does it feel to be on the bill for Rocklahoma alongside bands like Godsmack, Halestorm, I Prevail, Pop Evil, etc?
K: Absolutely incredible, man! I love seeing our name alongside those amazing bands! We can't wait to play that show (especially because we get to play these new songs live)!!
A: It always feels awesome to be able to play with bands like that! Those festival-type shows are always the best because the energy and excitement you feel from everything coming together and to me that's what makes it different than a typical show.
N: I've been into so many of these bands at one point or another!!! I love the idea of playing with all the bands I heard constantly on the radio as a teenager. But personally, I'm most excited to play the same festival as Cheap Trick!
J: It is very cool! A lot of wicked bands on the bill! 
---

JJ: There have been a lot of really solid up and coming Hard Rock/Metal bands getting more 
recognition over the past couple years; are there any new bands in particular that you guys 
have really been getting into? 

K: That's a tough question because, as far as genres go, I'm all over the place. I've been really into 
rap lately - but in the hard rock/metal scene, I would have to say Ice Nine Kills, Too Close To Touch, 
Picturesque, and Set To Stun have been killing it in my book. 

A: Personally I am very into the modern progressive metal or (dare I say) "Djent" genre, so there are 
a few bands like Periphery, Northlane, and Jason Richardson that I'm always drawing inspiration 
from. I am constantly hearing new bands popping up on social media, always hearing some awesome 
bands. But when the time comes to write new Kevlar material I very rarely dive into anything new. 

N: My musical tastes are all over the map and although I love Rock and Metal they are just a small 
part of many things between my ears haha! And sometimes going back in time and finding older 
bands that can inspire you can be just as exciting and fresh! As far as rock/metal (forgive me if some 
of these bands have been around long enough to not be considered "up and coming") I'm digging 
bands like Thank You Scientist, Nothing More, Royal Blood, Starset, and Avatar as well as a few 
others have all captured my interest and even served as an inspiration to me among newer bands. 

J: As far as metal bands go! I will say Ice Nine Kills! They have been around for years but in the last 2 
have gotten major success. I absolutely love them! I also have been into some of the newer country 
musicians. Really into a guy named "Jordan Davis" he has some awesome tracks on his latest album! 
---

JJ: What are some bands that have played the most influential parts in helping you create 
Kevlar's unique sound? 

K: Everyone in the band has their own musical influences for sure. Lyrically, my biggest influencer is 
definitely Eminem. I think he is a genius in whatever he does. He could write a country song and I 
would dig it. Like I said earlier, I'm really into rap, so artists like NF and Logic have really been 
inspiring me lately. At the same time, if you've met me - or even if you haven't - most people probably 
know that my biggest influence in life alone are Paramore. They're my favorite people and great 
friends! Bands ranging from Paramore to artists like Katy Perry and Blackbear and, hell, One 
Direction! They're my jam! 

A: Each band member draws from such a vast range of influences. I would say for me and Jake as 
the bass player and guitar player we have some of the same similar tastes in music, so naturally 
some of the ideas start from him and myself. That similar taste I mentioned is modern progressive 
metal/modern metal, I feel that our sound kind of goes in that direction in the early stages of a song, 
but once everyone else puts in their respective influences and ideas it takes on a whole new, 
indescribable vibe. 

N: That's definitely an individual question because all four of us have very different tastes in music. 
For me personally in the drum department, bands like Rush, The Police, Coheed and Cambria, and 
Foo Fighters all serve a major role in the influence I put into Kevlar's sound. 

J: For me, bands like Ice Nine Kills, Periphery, Deep Purple, and Florida Georgia Line. A wide mix of 
those bands brainstorm riff ideas usually. 
---

JJ: For those new to Kevlar, have there been many member changes in the band, or has the 
lineup been pretty solid for a while? 

K: I've been in the band for 3 years now! I'll let the guys tell everyone how the rest came to be. 

A: Since the beginning about 7-8 years ago a couple of singer/guitar players have come and gone. 
Nick, Jake and I have been together since 2012 and Kelci replaced our former singer in 2015.

N: It was sometime in 2010 when Anth and I started the band with another kid we knew. Jake joined 
us about a year - year and a half later. For the last 3 years the lineup has been solid. 

J: There was a singer/guitar player before me, then there was a singer/guitarist named Brian Lowery 
who me Nick and Anthony were in the band with for a few years. We wrote a different style of music. 
More of a hard rock. I'm sure some of that music may be floating online somewhere. 
---

JJ: What's the hardest part about trying to make it as a Hard Rock band these days? 

K: For me, it's the business end of it all, because I love business. I love the ins and outs of what 
makes a business work, but not everyone is going to enjoy our music and enjoy what we do and that 
frustrates me to no end because I am our biggest fan. And, personally, I have no shame in that. I tell 
everyone. So, for labels to approach us and tell us they're not interested in what we're doing - I can't 
wrap my head around it. (Much of that also has to do with my crippling anxiety and being in my head 
24/7 about every step I take, but that's a story for another day, kids!) 

A: Its all about getting your name out there, whether it be on social media, word of mouth, touring, 
etc. All of those require an insanely tremendous amount of work and can be very grinding at times. 
Just gotta push forward. 

N: Unfortunately, I feel like the glory days of rock and roll are in the past. The landscape of the 
industry has shifted and it is much harder for bands to be noticed. While the internet serves as the 
number one marketing tool for bands and all artists alike, I feel it can be the most detrimental tool as 
well. Over-saturation is at an all-time high and most record companies don't value originality like they 
used to. It's a real bummer to say, but it's no longer like the 70's, 80's, or even 90's where a record 
company will invest in a band they believe in and help it to develop and improve. They want to see 
that your band is capable of being a brand all on its own before taking you under their wing and giving 
you a chance. And they still want their cut. So it's either conform to what they want you to do, or go 
DIY until you accomplish something they want. As much as there are great communities out there 
ready to lift bands up, there are just as many people ready to bring you down as soon as you're not 
the latest trend. Sorry for the rant! 

J: In my opinion it is much easier to make it in the pop world then hard rock. I have seen Pop bands 
rise and gain faster success then the heavier bands do! So you got to try and push through and 
compensate. 
---

JJ: Out of all the shows you guys have done, is there one in particular that really stands out? 

K: Definitely! A few years ago, maybe last year, we played a Mushroomhead show in Ohio. Honestly, 
I can't even remember where at this point, but I do remember that it was sold out and we played to a 
crowd of more than 500 people in a packed solid room. I can remember climbing on top of the 
speakers and hanging by the pipes on the ceiling during our set. Management probably didn't like 
that, but I had the time of my life! 
A: There have literally been so many sick shows we've played over the years in so many cities! I 
could spend an hour on this question! But for me, there's something about playing in our hometown 
that always feels great to me! I can't say one specifically, but shows at Sherlock's and Basement 
Transmissions in our home town of Erie, Pennsylvania. So many crazy nights here that it's impossible 
to forget! 

N: We've played sooo many shows in our time as a band, and there are several that stick out to me. 
Some of them hometown shows, some of them spontaneous shows in backwater venues. The one 
that sticks out the most was our run in the spring of 2017 that brought us to Austin, Texas for SXSW. 
Even transcending a band experience, playing shows down there for a week and getting to 
experience everything the city and events of SXSW had to offer was one of the best experiences of 
my life and I'll definitely never forget that! 

J: I have a ton throughout the years to choose from, but I would say honestly, we played a show at 
the Agora Cleveland with Get Scared and Eyes set to Kill! We fit well with audience reaction in the 
metal core scene audiences. So that show was great for social media and overall experience! Gained 
a lot of new fans and friends! 
---

JJ: Is there an issue with the modern Hard Rock/Metal scene (like the people, attitudes, 
professionalism, etc.) that you wish you could change? 

K: Great question! I've never heard this one before! The only thing I could ask about the scene we're 
in is to have more respect for the women that are up on that stage. They are not toys and they are not 
there for your pleasure. They are there to do their jobs and to have fun, just like everyone else. 
Respect personal space and be kind to one another. 

A: I've always had a policy to focus on what I'm doing and not worrying about what others issues may 
be. There are always some things you may wish could be different, but such is life. 

N: I think that all varies from city to city, scene to scene, and even venue to venue. We've played 
many hospitable places that we would love to go back to, and we've played in places that we weren't 
treated well. I think at the end of the day if I had one critique, it would be as simple as treat others 
how you'd like to be treated and show respect to those giving it to you. 

J: I don't have something to crazy to say here. I'll just say that I don't consider it a competition. I think 
of every band in this genre as equal. Some get farther then others but we should support everyone. 
No egos allowed haha! 
---

JJ: I like ending my interviews with this question, because it's great to hear everyone's 
answers; at the end of Kevlar's career (whenever that may be), what is one thing that you 
would like to say you have accomplished above all else? 

K: Integrity. 

A: Good question. Honestly, as long as I was a part of something that others found enjoyment in, and 
I enjoyed, that would be the biggest accomplishment of all. 

N: To me, being rich and famous was never the ultimate goal. Obviously, most people including 
myself would not mind if it ever came to that, but to me it would be far more important to have our 
music make a difference in people's lives. Whether it's to serve as an inspiration to someone else's 
musical journey, or even helping someone on a personal level get through difficult times, it would be 
great to know that our music goes beyond what we are capable of doing in our regular lives. I know 
how much the music I love has influenced and shaped my life, and how grateful I am to the 
musicians, songwriters, and producers who brought those things to life. I would love to make even 
just one person feel the same way I do about music and art. 

J: You know I feel that whenever that may be, I'm proud of what we have been able to do so far and 
what we can do in the future. So I would be proud if we ended tomorrow or if we ended 20 years from 
now haha. Never settle for where you are at but be proud of what you have accomplished! Proud 
either way.
---
Check out the lyric video for Kevlar's latest track, "For What It's Worth" below, and if you like what you hear, go pre-order yourself a copy! http://hyperurl.co/aftermathep