I recently had the chance to talk to Jason Delismon, the singer and guitarist for the band Frontline, out of Chicago, IL. We talked about the upcoming music from Frontline, plans for 2018, and some interesting personal things!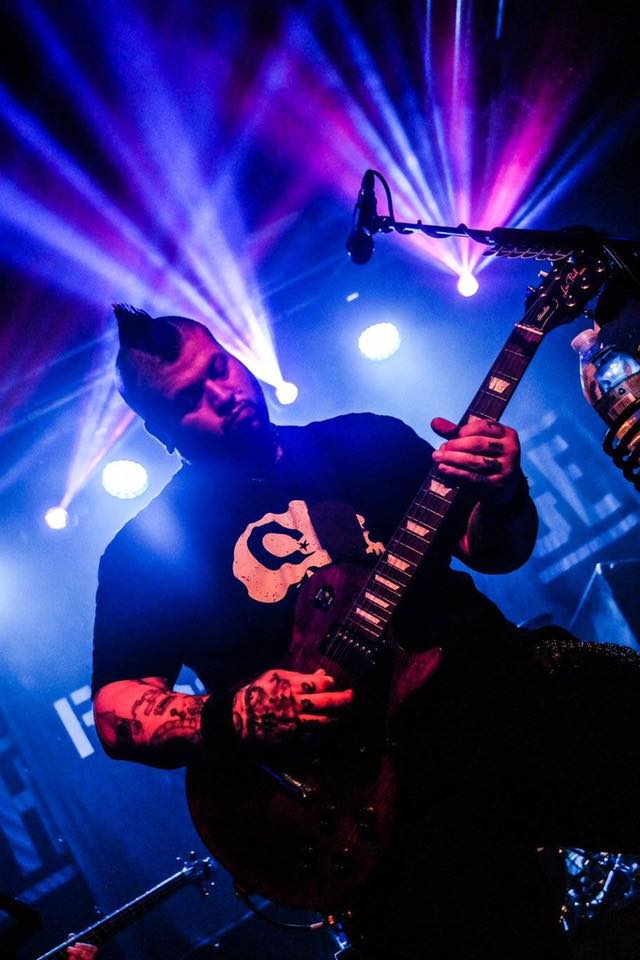 ---
JJ King: So, you are a drummer, singer, and guitarist; which of these did you start out doing when you first got into music and performing? 
Jason Delismon: I first started on the drums and shortly after picked up playing acoustic and singing as well. 
---
JJ: Frontline just went into the studio to record a new album; how do these songs compare to the old music from you guys? 
JD: We currently are still in the studio working on new material. We will be releasing our upcoming Single "Live it Up", no release date as of yet. Our new batch of songs have more rockers. 
---
JJ: I noticed that you used to be a drum tech for several bands, one of them being Eve To Adam; what was it like traveling with them as a tech? 
JD: It was an amazing experience touring with those guys. 
---
JJ: Who were some of your bigger influences when you first got into music, and who do you draw inspiration from currently? 
JD: Led Zeppelin, Journey, Chicago, Van Halen, and Pantera just to name a few. 
---
JJ: As well as being a musician, you're also a Father and a Husband; how is it trying to find a happy balance between being in a band and being a family man? 
JD: My wife and kids are super supportive in what I'm doing, and they know how passionate I am and they support it. Being on the road can be rough but we find ways to communicate and see each other. 
---
JJ: So many things have already been done these days, especially in Rock; does it ever get difficult trying to write music that doesn't sound like everything else? 
JD: When writing, we as a band and myself try to not focus on a specific style or genre, but go with what may inspire us or influence us at the time. 
---
JJ: In all of the performances that you've been a part of, is there any one show that stands out above the rest as one you'll never forget? 
JD: I've played many shows and shared the stage with many national acts. Favorite band to perform with is Halestorm. 
---
JJ: Are there any big tour plans in 2018? 
JD: We are working on wrapping up new material and hoping the right situation is presented to us to go out there and hit it hard. 
---
JJ: I know that music and family probably take up the good majority of your time, but is there anything outside of those two that you really enjoy doing with your time? 
JD: Resting lol. Mainly spending quality time with my family and staying healthy and working out. 
---
JJ: Whenever your career as a professional musician comes to an end (whenever that may be), what is one thing that you would like to say that you have accomplished above anything else? 
JD:Being on a major Jagermeister Tour with Eve to Adam supporting In This Moment and Halestorm and also working for the band Survivor.
---