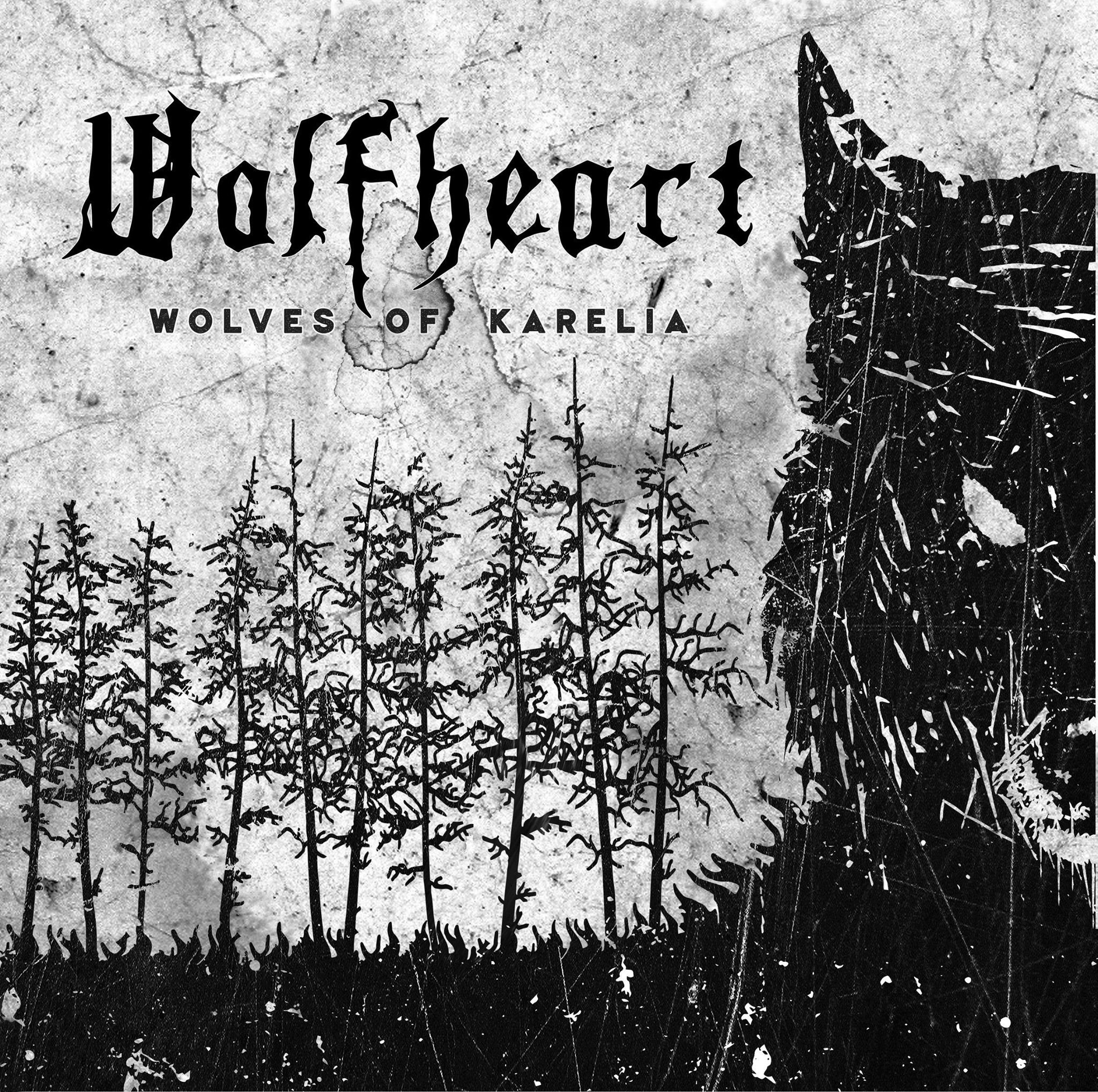 Artist: Wolfheart
Album: Wolves Of Karelia
Genre: Melodic Death Metal
Location: Myrskylä, Finland
Label: Napalm Records
Release Date: April 10, 2020
---
Thus far the year 2020 has been an absolute shit show, with nothing but darkness on the horizon due to COVID-19 temporarily taking over the world, so to speak. Although, there is a light in the darkness, the same light that has guided millions of people throughout the world through some of the hardest times in their life...and that light is music. Contributing to the brightness of said light, is the latest release from Finnish Melodic Death Metal band Wolfheart with the album entitled Wolves Of Karelia, released on April 10th. This outfit has been incredibly consistent thus far in their career, and they certainly continue in delivering yet another powerful studio performance with this release. 
This album opens up with a powerhouse of a song called "Hail of Steel", which was the first music video released from Wolves Of Karelia. In keeping with Wolfheart's pattern, this is a video full of intense action, fire, and flying hair. While the loss of guitarist Mika Lammassaari might have had some a little weary about the lead guitar parts on this album, the newest member (Mr. Vagelis Karzis formerly of Rotting Christ) certainly used this track to put listening minds at ease. The closing solo, while not necessarily as "shreddy" as Mika's solos could be, was beautiful, atmospheric, and full of heart and soul, which - as fictional legend Eddie Wilson featured in the movie Eddie And The Cruisers says - is what the guitar is all about anyway. Beyond that, "Hail of Steel" is fantastic all across the board from the guitar work, to the drumming, to the intense lyrics, and to the incredible way in which the song gradually and consistently builds up the suspense of it's listener, making it the perfect opening track for Wolves Of Karelia. 
The first track that was released from this album, "Ashes", was unveiled about a month before the album itself dropped. This is certainly one of the more interesting songs on the album, and also one of my personal favorites. "Ashes" features a classic Wolfheart intro with beautiful clean guitars, gradually building up the suspense before it kicks in with full force. Unlike most of the tracks on this album, "Ashes" is more of a mid tempoed song, with a bigger, more epic feel to it. It is far more than just an onslaught of blast beats and fast guitar parts (which there is obviously nothing wrong with), topped with lyrics to match the atmosphere of the song, marking itself as a unique track from this album release. 
Now as a drummer myself, I really need to comment on the drumming performance of this album. Drummer Joonas Kauppinen definitely uses Wolves Of Karelia to solidify his place as one of the top drummers, not only in Melodic Death Metal, but in Metal as a whole. Contrary to popular belief, the measure of a drummer's abilities is not solely determined by how fast he can go, or how many blast beats he does, but on a number of factors, all of which Mr. Kauppinen possesses. Not only DOES he have the abilities previously mentioned, but the amount of creativity, precision, and subtle little nuances that he uses constantly (ride bell patterns, creative use of splash accents in his fills, being able to fluidly change double kick patterns in and out of various subdivisions) is what makes him amongst the top of the class. Perhaps my favorite demonstration of said skills on this album is on my personal favorite track, "The Hammer" (which there is a music video for out as well). Nearly all of the abilities mentioned are demonstrated immediately in the intro of the song, consisting not only of pounding double bass, but creative beats utilizing combinations between his floor tom and hi-hat, amongst other things. I don't want to bore you with an essay of a single member of this elite band, so if you have any interest in drumming, thoroughly check this track out yourself to see precisely what I'm talking about.  
I will talk about one more track before I wrap this up, "Reaper", another one of my favorites from this album. Just as much, maybe even more-so than some of Wolfheart's other tracks, this tune really displays the band's incredible ability to write intros that are just bound to interest the listener straight out of the gate. One thing that Wolfheart hardly ever seems to do, is start a song without a massive buildup of some kind. In doing so they succeed in building the energy, building the interest, and building the epic foundation on which the rest of the song does it's thing. Besides the intro, another standout part of "Reaper" to me is the composition of the chorus. At the core of it, we have a steady double bass drum beat holding it down, amped up by the epic vocal patterns Tuomas belts out, topped off with the cherry that is the lead guitar melody. This melody pierces it's beauty through everything, yet not so much to the point where it overpowers the other elements, but just enough where it ties everything together in perfect harmony.  
It really says something about a band when they manage to persevere in times such as those that the world is going through right now. Being a metal musician is difficult enough without the added pandemonium of an international health crisis, yet these guys are doing it with all of the strength that they possess. Every single member of this band is extremely experienced and comes from extensive musical backgrounds (Tuomas & Joonas- Dawn of Solace, Lauri Silvonen- Bloodred Hourglass, and Vagelis- Rotting Christ, just to name a few), so they know the struggles that face them, but continue to stand and fight regardless. Now, the lyrics throughout Wolves Of Karelia are themed around the legendary "Winter War" between the USSR and Finland (which Finland managed to stand their own in despite facing forces dwarfing their own numbers ). I'd like to think that being a metal musician comes with a bit of a similar battle in a sense. They are always facing odds that seem almost impossible, yet pushing forward, never giving up, regardless of what unexpected hurdles are thrown into their path. No matter who is fighting hard to make sure that they stay down and don't get back up. As Wolfheart says themselves in the track "Reaper": 

"Facing an enemy 
Overpowering in grandeur 
Superior in arms 
But never in heart" 
Stay motivated, stay safe, and stay metal my friends \m/ 
-JJ King